Harry Potter: Watercolor Magic: Flora & Fauna (Paperback)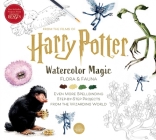 $29.99

Usually Ships in 1-5 Days
Description
---
Bring the magical creatures and plants of the Wizarding World to colorful life with this stunning watercolor book, featuring 32 new original watercolor projects inspired by the Harry Potter and Fantastic Beasts films.

The exciting follow-up to Harry Potter: Watercolor Magic, the blank second book in the series continues the artistic fun with 32 all-new, ready-to-paint watercolor projects featuring your favorite magical creatures and plants. From a soaring Buckbeak to temperamental Mandrake, to a quiet Thestral forest scene, these pages burst with brand new opportunities for fans to create gorgeous art inspired by the Harry Potter and Fantastic Beasts films. Each project features a fully painted sample image to get you started plus a list of supplies and colors, followed by clear, easy-to-follow instructions to help you recreate the image in minutes. The book also includes 64 pages of perforated high-quality watercolor paper with light pencil sketches of each project, making it super easy to re-create the artwork right in the book and then remove the finished piece for easy framing and display.

Harry Potter: Watercolor Magic: Flora and Fauna is perfect for at-home artists of every skill level looking for a fun, easy art project to celebrate their love of the Wizarding World films.

OVER 50 PROJECTS: Bring dozens of images of magical creatures and plants to life, including Buckbeak, Mandrakes, Cornish pixies, Fawkes the phoenix, the Niffler, Aragog, Bowtruckle and much more.

FOR EVERY SKILL LEVEL: Complete instructions make it easy for artists from beginners to masters to create Wizarding World art that is true to the films.

HIGH-QUALITY PAPER: Thick watercolor paper for a beautiful, lasting keepsake.

PERFORATED PAGES: Pages release easily from the book for framing and display.

OFFICIAL WIZARDING WORLD BOOK: Created in collaboration with Warner Bros. Entertainment Inc.
About the Author
---
Tugce (Ozdemir) Audoire was born in Ordu in northern Turkey. Throughout her life, she has always been fascinated by nature and how the perspective and point of view can diversify reality. Naturally, she was drawn to art, especially painting. After studying art throughout her secondary and college education, Tugce won the prize for best animated film at the Golden Boll Film Festival with her graduation film Upside Down. While working as an animator, she discovered her love for watercolor, having exhibitions of her work in Turkey, the Czech Republic, and France. Tugce currently lives in Brazil, working as an illustrator and animator. She shares her inspirations and knowledge about art on her YouTube channel.